12.6.17
We've been using the 'Learnpads' to photograph our class caterpillars and add captions. We can keep track of how they change by adding to our work each week.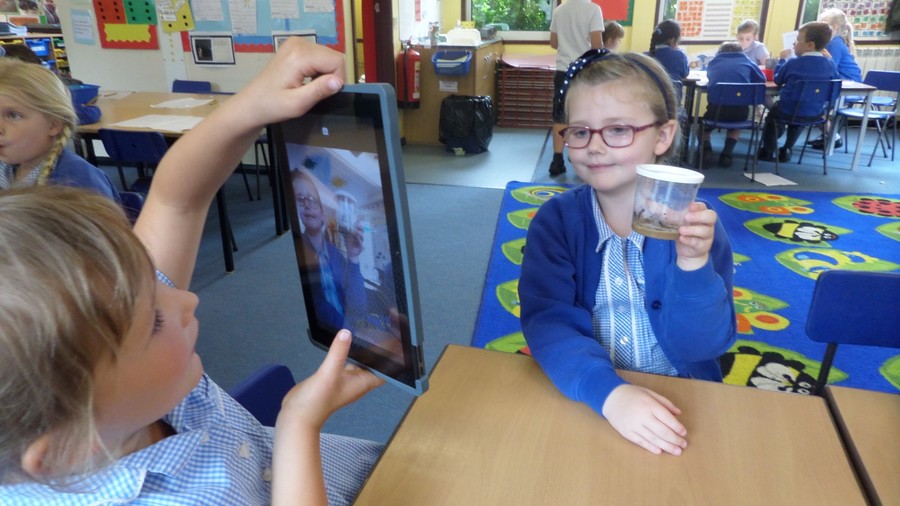 Term 6- Insects and Flowers
Our last term of the year already! We are waiting for a set of caterpillars to arrive so that we can observe them change into butterflies. We have had a go at sketching some of the plants growing near our classroom
Please see the curriculum letter below for further details.
During our'Buildings' topic so far, we have visited Salisbury Cathedral and found out how it was built. Back at school we have experimented ans built bridges and made a model town from Recycled materials.
Term 5
Welcome back, we hope you all had a lovely Easter break. We have a short but busy term ahead and are kick starting our 'buildings' topic with a trip to Salisbury Cathedral. During the day, the children will take part in a variety of workshops.
In the classroom, our role play area is changing into a space rocket to link in with one of the books we are looking at in English lessons. This term we are looking at two books with a fantasy setting. Please see our Information letter for more information.
Pines Whale Watch!
We have been following the news about a humpback seen off the coast of Devon. Twice it has had to be rescued by the RNLI after becoming entangled in fishing nets. We have been fascinated by the news clips we have seen.
We have plotted the usual route of a humpback whale and seen where this one has gone off course. we have also read 'The Snail and The Whale' and turned the role play area into a 'Whale Watch Cafe.'
On Thursday 5th April, we are looking forward to showing the information books we have worked really hard on to our parents and sharing our knowledge.
Term 4 already!
We've had a great start this week and it's lovely to see how much the children have matured since they started back in September. Our topic this term is Water world and you can find more details by clicking the link below. we have started to think about all the ways in which we use water as part of our daily lives and consider some parts of the world where water is scarce.
Happy New Year!
We hope you had a fantastic Christmas and New Year. It was lovely to see the children so keen to be back at school.
Our topic this term is Time Detectives and next week we hope to have a fantastic start with our trip to Salisbury Museum. We will be looking at how we have learnt about the past by examining artifacts from the past.
We will be changing reading books on Mondays, Wednesdays and Fridays and sending phonics home learning on a Thursday.
Please click the link below to read our latest curriculum letter.
2.12.16 Forest Friday
On Friday afternoon we had a great time inn the forest. We have followed this up in class today by writing about the things we did.
23.11.16
Below are some photos of our learning over the last week. We dressed in pyjamas to raise money for 'Children in Need'. We have been learning about animals in science and made Lego homes for a small pet and tested different materials to see which was the most absorbent. In maths we found pairs of number that make 7 in different ways. In English we have been Poetry stars and have added actions to some poems we have been learning. We have been joined for the next 3 weeks by Miss Kievel, a B.Ed student from Winchester University.
Maths Passport
11.11.16
This week we have introduced the Maths Passport to the children. Please look in their book-bags to see which targets they are working on. All of the information was shared on the Information Evening last week. If you wish to know more please look at the Maths section of the website or see Mrs Neale or Mrs Smith
Term 2 'Celebrations' 4.11.16
We are looking forward to a busy term finding out about different celebrations. We are starting with bonfire night and finding out about the history behind the event. Please see the link below for our latest curriculum information letter.
14.10.16
We had a great time at our first forest Friday of the year. The mobiles we made are now in our classroom. Please see the slide show below.
Phonics 12.10.16
We are using actions to help the children to remember the phonic sounds they are learning. Please see the link below for the action list.
3.10.16
Please see the pictures below to see some of the activities we have been doing in the first few weeks. They include looking for signs of Creation outside for R.E, playing number games and finding ways to make number bonds to 10 in maths and creating our own Island in geography.
Pines Class 2016-17
Welcome to Pines ! We love our new bug rug and have a great space each to sit on.
Thank you for all the holiday bags sent in, we will go through them in the coming days.
Please click the link below for our latest curriculum letter and updates of our topic "Who am I?"
Yr1 term 1 Information Letter 2016 Who am I.doc