Reminder! It is still very hot weather please make sure you apply sun cream bring a hat and a water bottle to school!
Langley Class
Year 4
Mrs Perry
Mrs Auras
For the latest home learning- please see beneath the photos of our class.
We make up Langley Class...
Home Learning
PLEASE NOTE: This week children have been given a new Home learning book where they should complete their home learning each week! You can still find the learning on the website but it is stuck in their book as well.
I am happy to explain the task further if needed.
18.5.18 - 14.6.18 children will not receive class home learning. As part of a whole school initiative, each child has been asked to develop their own project. Projects are created each year and this years theme is HISTORY MYSTERY- WHO AM I? Children are expected to use the time that they have been given to produce a quality research project. These projects will then be shown at our very own exhibition at school.
Please see the letter for more information. Any questions please do ask.
Copy of Annual School Project letter
6.7.18- Guided reading and angles
Weekly home learning expectations in year 4:
Read to an adult at least 3 times a week
Practise spelling suitcase ready for testing on Fridays
Practise weekly maths passport targets ready for testing each week
Complete weekly home learning task set on a Friday and Due in on the following Thursday. This might be Topic, English or Maths, related.
Year 4 Residential to Brenscombe Outdoor Centre, Corfe, Swanage 11th - 13th June
Monday: Having unpacked (and promptly lost everything); made beds; eaten lunch and explored the centre; the Year 4 children got down to some great learning in their Bushcraft workshop.
Bushcraft skills of fire lightening are ones we can not teach on Forest Friday at school, and so this was a super progression using flints. After some shelter building, fire building and a bit of camouflaging with mud (showers were compulsory before tea), the children made their own bread and baked it over the fire.
Dinner of local gourmet sausages and mash was followed with delicious brownies. Then it was time to chill in the living room and play in our private courtyard.
Finally, we had the BEST EVER sing song around the camp fire that Miss M has ever seen from our school. Hot chocolate and marshmallows finished up the evening activities.
Bedtime was a smooth operation - apart for the missing toothbrushes and the amazing concept of needing to take towels to the bathroom - before we all caught lots of zzzzzzzzzzzzzzzzzz. Everyone had a great night.
Tuesday morning was a sunny start with a 7:30 footy match amongst some children and a mega Jenga building session for others. After a full English breakfast the children have smothered themselves in sun cream and are now on the archery and rifle ranges and working on team building skills up on the fields. More to follow tomorrow.
x Mrs P, Mrs A, Mrs M.
Sorry the poor internet connection did not enable us to add more, but here are just a selection of images from our trip
Ancient Mysteries Day!
We had so much fun in school for our Ancient Mysteries day. The children looked fantastic in all of their outfits and really engaged with the day. children had to take part in team building activities such as creating the biggest and strongest pyramids made out of spaghetti and marshmallows and design their own piece of Egyptian jewelry. During the afternoon we had some special guests come and speak to us about Egypt and let us look at lots of different artifacts- we particularly liked looking at the Mummification book! The children enjoyed the day so much they wanted to have a second Ancient Mystery day!
Please come back to see the photos!
Money Madness!
In Maths we are focusing on money and thinking about how we can make amounts in different ways, and converting p to £. We had lots of fun making different amounts and trying to beat our partners. No contact-less payments allowed!
Digestive systems!
In Science we have been finishing off our theme of living things including humans and have been exploring the digestive system. Children first had to draw around a member of their group and think about what organs we might use to help us digest our food. Children then had the task of writing a diary as if they were passing through the digestive system themselves!
Click on the photos to have a look!
For Forest Friday we were lucky enough to have fantastic weather! we went with year 3 this time and we had fun trying to write in Hieroglyphics! Take a look at some of our learning! Can you read what our secret messages say?
TERM 5 and 6!
Welcome back to the last big term of the year! Year 4 have lots in store as they journey through their topic to discover all about ANCIENT MYSTERIES! This week we have already learnt a lot about Egypt! We have learned which continent Egypt is in and have looked at some Hieroglyphic writing!
RE
This week we are exploring the Easter Story. In the pictures below we were reenacting Palm Sunday. We realised much more happened that day than Jesus entering Jerusalem on a Donkey!
Super skittleball!
Year 3 and 4 took part in an interhouse tournament. They used all of their skills that they have been learning.
Well done to everyone for taking part and trying your very best!
A Fantastic Performance!
Year 3 and 4's production of Wind in the Willows was excellent- We have such talented children! Everyone worked extremely hard to learn all the songs and their parts. Thanks you to all parents and carers who also helped at home!
I'm sure we will be humming the catchy songs for the rest of the term!
Wind in the Willows
We have now issued scripts to all of year 3 and 4 in preparation for our production. I hope that you have fun learning your lines over half term! Remember to try and think about the different tone and expression you might use!
If you have forgotten your script, you can download another copy here as well as the covering letter for more information: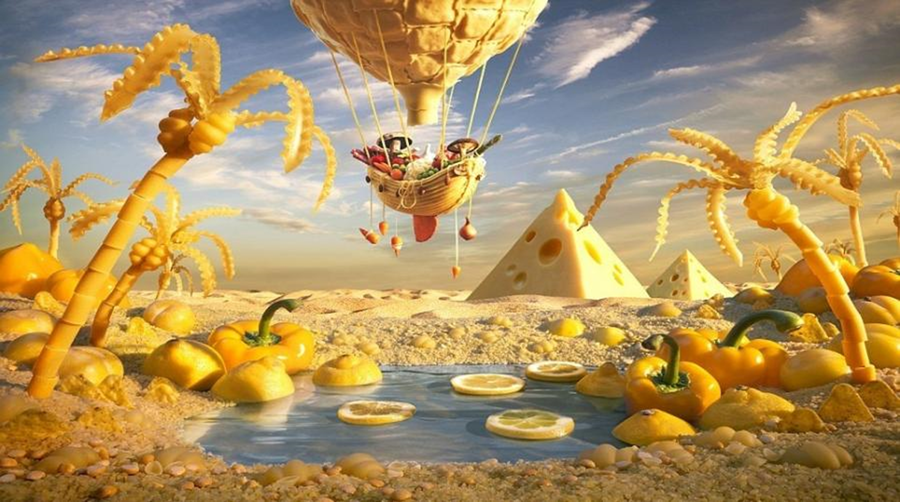 For this terms progression writing we had to plan and then write a description of the picture above! We have great imaginations and we tried very hard to include all of the different features of writing that we have been taught.
How would you describe this picture? Can you think of any similes or metaphors that you could use?
We are really looking forward to our Forest Friday this week! Unfortunately we had to postpone it until this week because of the poor weather conditions! Come back soon to see what we get up to!
Science Learning
As part of our Science learning we have been finding different ways to group living things using a Venn Diagram. There was lots of discussion in our classroom! We also thought about which of the living things we might find in the Amazon Rainforest and which animals we might find in the New Forest where we live! Scroll down to see some pictures of us!
What do we want to find out about the rainforest?
This week we have been thinking about our new topic and have come up with some ideas about what we would like to find out! Here are some of our ideas!
'Are there any parts of the rainforest without trees?' - Josh
'How many different types of leaves there are in the rainforest?' - Ben
'How many different edible foods are there?'- Harry
'How many rainforests are there in the world?' - Jacob
'How hot does it get in the rainforest?' - Charlotte
'How tall do the trees get? - Evie
'How do people in the rainforest survive?' - Ashton
' Which animals are nearly extinct?' - Henry
We are hoping to answer lots of these questions in the coming weeks and find out lots of new information.
What questions might you ask if you were learning about the rainforest?
Term 3!
We hope that everyone has had a fantastic Christmas holidays and new year! We are already really looking forward to learning more about the rainforests in the world! Come back soon to see all of our learning in our new topic GRUBS UP!
Diary writing-
During this half term year 4 have been doing some fantastic learning, developing different diary entries about a range of Victorian Children. After our trip, children have been developing their own diary entries about their day at Poole Museum. I am really looking forward to reading the final copies!
Victorian Experience at Poole Museum..
Langley class had an eye opening experience yesterday. We were greeted by a Victorian Lady called Mrs Jelly who told us we were being too noisy in the street! Our day consisted of lots of shouting, and being told off as children were always meant to be 'seen and not heard', however we took it in good humour and decided we were glad we didn't have to live in Victorian times!
Throughout the morning we learned how to clean and cook. We were able to taste what we had made! unfortunately the scones didn't taste as good as we had hoped as we put lots of salt in them instead of sugar! oops!
In the afternoon we experienced school and different lessons that would have been taught. School was very strict and we had to keep our hands flat on the desk at all times!
Thank you to our volunteers who also came with us on our trip, we couldn't have gone without you!
If you would like to know more about our day- please come and ask one of the year 4's! There are also more pictures in our Class journal!
Electric Fun!
In class we have been investigating and predicting whether or not circuits will light the bulb. We decided that the circuit needs to be complete by joining in a full circle for the light to shine.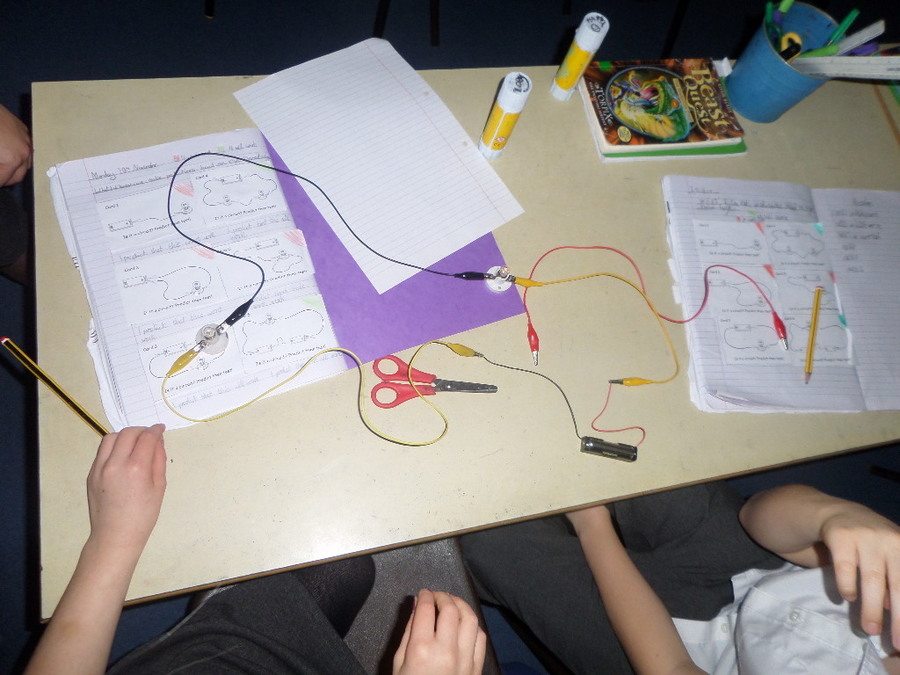 Forest Friday!
We had so much fun on our Forest Friday; learning outside of the classroom!
We explored different Victorian childhood games. We thought about the different games that children would play and also considered what children could play with, especially if they were not very wealthy. We weren't too happy about having to make our own footballs before playing with them! Some of us were very good at playing 'hoop and stick'. We had a lovely morning in the forest and are very thankful to our parent volunteers for coming with us to help. Thank you!
Using a formal method...
This week we have focused on using a formal method to add. children have used different equipment to help them understand what needs to happen to get a correct answer when using a formal method. Ask your child at home how they would add 2 numbers together using the column method!
Last week for home learning, Langley were set the challenge of creating a fun way to practise their times tables. I was so impressed to see all of the different things that the children had come up with! We had board games, videos, flash cards and may other ways of practising! Look below to see what we got up to!
Video - flash cards game (click to view)
Video- flash card challenge (click to view)
Today in Science we focused on Sound. We went into the playground to listen carefully to our surroundings and what sounds we could hear. We noticed that there were lots of sounds we wouldn't normally hear when we are normally in the playground and making lots of noise!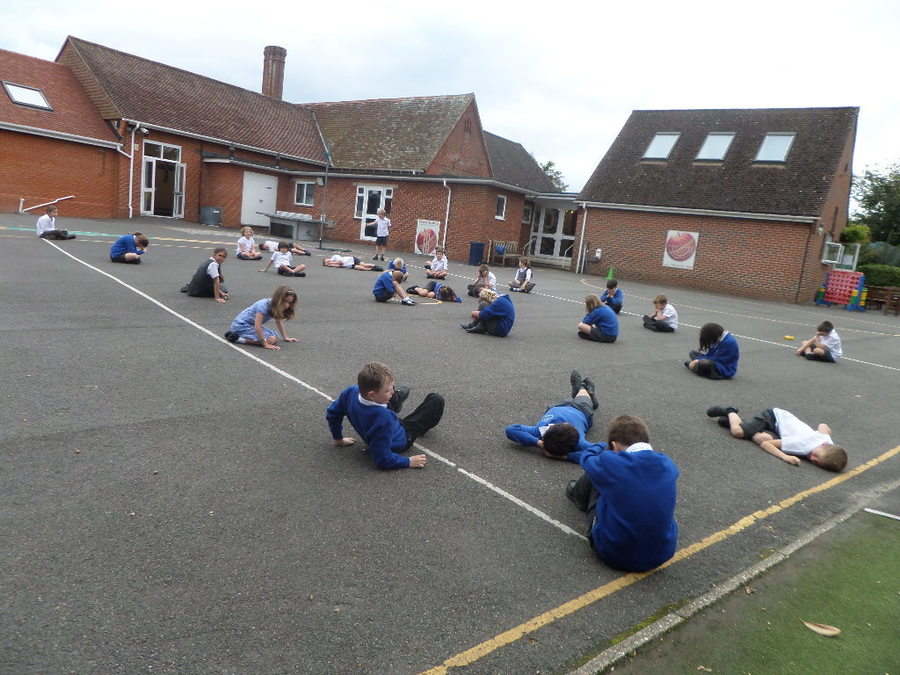 We have been learning about writing detailed descriptions in English. We have particularly looked at using adjectives and prepositions ( a preposition helps to explain where something or someone is!).
Can you think of the prepositions we used to describe these pictures?
Click on the photos to see them bigger!
Welcome back to a new term! After the first couple of days Langley class have settled well with some new members joining us. We have been learning new routines, and are particularly enjoying our Maths Passports.