Woodside EYFS
Welcome back to Term 6!
This page will list the weekly home-learning ideas for everyone in our class.
Mrs Field will be available to help you each school day via the Class Dojo messaging function and will continue to send daily 'class story' posts.
We ask that you continue to use Class Dojo portfolio function to send in:
photos of your learning. It is not necessary that you send a picture for every page of work, however, we love seeing your progress and superb efforts,

video clips of you reading your book,

video messages, journal (text) entries or photos, sharing what you are proud of both in your learning and your well-being activities (like new skills, achievements and exciting news)
In turn, teachers will continue to post messages of encouragement to your portfolio posts.
Remember we are all 'Learning together through friendship and faith'.
Below is a suggested timetable for this week which may help maintain a sense of routine:

| | | | | | | |
| --- | --- | --- | --- | --- | --- | --- |
| Suggested day | Session 1 | Session 2 | Worship and Reflection 'Assembly time' | Session 3 | Physical Activity session | Love of Reading session |
| Monday | Physical activity | English/phonics | Mrs Whittaker | Maths | Discovery Time | Read to an adult |
| Tuesday | Physical activity | English/phonics | Miss Morland | Maths | Discovery Time | Listen to a story via Love of Reading page |
| Wednesday | Physical activity | English/phonics | Worship through song | Maths | Discovery Time | Read to an adult |
| Thursday | Physical activity | English/phonics | Mrs Whittaker | Maths | Discovery Time | Share a story with someone |
| Friday | Physical activity | English/ phonics | Miss Morland | Maths | Discovery Time | Read to an adult |
Remember all links are highlighted in yellow and underlined.
Term 6 - Week 6&7 Monday 6th July - Friday 17th July 2020
Hello Everyone! We are so proud of all the work you have produced throughout our mini space topic - what a hard working class Woodside are!
For the next 2 weeks our mini topic will be 'Dinosaurs'. We have got lots of exciting activities planned for you all and we hope you enjoy them at home and at school. Mrs Perry will be continuing to check Class Dojo each day and pass on any messages to us.
We wanted to share how impressed we have been with the children, the learning that has taken place has been fantastic! For those who are back in school we are so thrilled to have you back and for those at home we miss you and are so proud of your achievements. We are very lucky to have such a brilliant class! From us all in Woodside x
Maths:
whiterosemaths.com
Navigate to Home Learning - Early Years.
Term 6 Week 6 is all about
https://whiterosemaths.com/homelearning/early-years/ The Dinosaur that pooped a planet
Here are some Dinosaur math's activities to try if you have time.
Sorting - For this activity you can use pictures or if you have any small dinosaur toys at home you can use those. Sort the dinosaurs using different criteria - those that can fly, have 4 legs, have 2 legs, carnivores, herbivores, omnivores, large, small... Can the children explain how they have sorted them? Are there any that overlap?
Addition and Subtraction - As above you can use small dinosaur toys or pictures. Can you add the legs together? Use 2 -3 pictures/dinosaurs at a time. Get the children to record the number sentence first and then solve it. This can also be used for subtraction too.
Data collection - what is your families favourite dinosaur? Draw a pictograph to collect the date and then let us know!
Measure - How tall or long were the dinosaurs? Can you find out how tall or long these dinosaurs were:
Tyrannosaurus
Brontosaurus
Triceratops
Stegosaurus
Iguanadon
Can you find any more?
This is also the time to go over skills taught throughout the year:
Simple halving and doubling - this could be halving objects (cutting playdough shapes in half or progressing to numbers)
Doubling low numbers
One more, one less to 20 and beyond
Simple addition and subtraction
Naming basic 2d and 3d shapes
Completing patterns
Recording number sentences
Ordering events in the day, can you tell the time using o'clock?
Here are a few more activities
Dinosaur I Spy and Add to 20 Answers.pdf
Dinosaur I Spy and Add to 20 Checklist.pdf
Dinosaur I Spy and Add to 20.pdf
t-t-16411-build-a-shape-dinosaur-activity-_ver_3.pdf
Other good maths games can be found on topmarks.co.uk
Physical Development
Gross Motor Skills
EYFS PE - We will continue to follow PE with Joe Wicks 0900-0930 on YouTube. This will now be Mondays, Wednesdays and Saturdays only.
More PE to follow from Mrs Perry in preparation for our sports day!
Fine Motor Sills
Continue to work on fine motor skills, pegging, cutting, threading, pencil control, tracing, small tools.
Phonics
new.phonicsplay.co.uk
For the next two weeks we will continue to consolidate what we have learnt throughout the year.
Wk 6 -This week we will be going over adjacent consonants.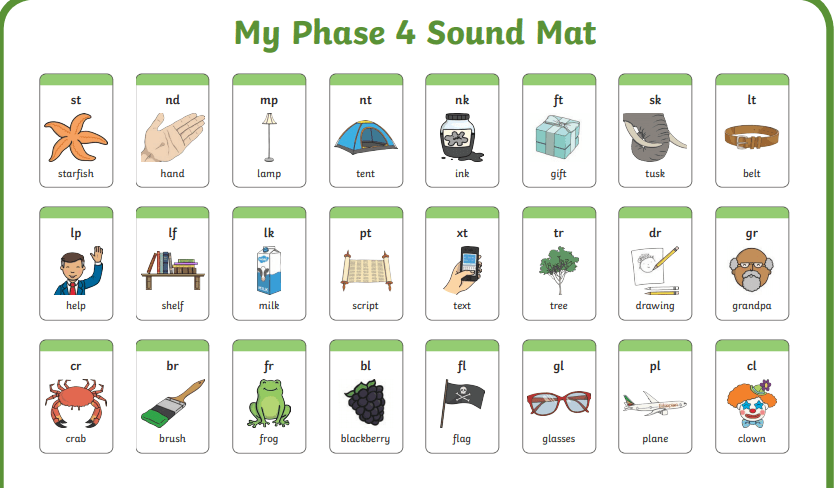 t-l-5687-phase-4-pictures-and-captions-matching-activity-sheets-_ver_2.pdf
t-l-8762-phase-4-phonics-picture-activity-sheets-_ver_2.pdf
Can you read a variety of words that contain these blends? Can you spot them in your reading book or a book from home?
Can you write a list of words that contain each blend? (adults feel free to pick a selection as there are quite a few!)
Wk 7 - This week we will be revising a variety of skills and sounds that we have learnt throughout the year.
Digraphs and Trigraphs
t-l-6096-phase-3-phonics-real-and-nonsense-words-popping-powerpoint_ver_2.ppt
Tricky words
Punctuation
Writing Tasks Wk 6
This week's writing tasks focus on Dinosaurs
Read through the ebook together. Feel free to break it down so you read a bit each day.
The focus of the week will be to make a non-fiction fact book about Dinosaurs.
Here are some suggestions for pages:
Monday: A fact about your favourite dinosaur and pictures
Tuesday: What did the dinosaurs eat, for example: A carnivore ate meat. A Herbivore ate plants. Draw a picture
Wednesday: What was the largest dinosaur? What was the smallest dinosaur? Draw a picture
Thursday: Write a fact about a dinosaur that can fly/swim. Draw a picture.
Friday: A front cover for your book and put it all together!
Writing Tasks Wk 7
This week's writing tasks focus on transition
Monday: Can you write down what you are looking forward to when you return to school? This could be seeing your friends, playing on the field or in the playground, using certain resources...
Tuesday: Are you worried about anything when you return? Write your worries down and send them via class dojo so that we can help!
Wednesday: Can you draw a picture of your self and label it? Include your personality, happy, excited, friendly, shy...
Thursday: What has your favourite topic been in year R and why?
Friday: Write a list of lovely activities (at home or out and about) that you are looking forward to doing over the summer holidays!
Reading
oxfordowl.co.uk
To access this resource you will need to set up a FREE account with an email and password. Once set up you can access lots of reading books for children to read and story books for adults to share with children.
Do you have any Dinosaur books at home? What ones have you got?
If you would like to try a new reading book for the reading session have a look to see if there is one you would like to read.
Discovery Time
Below are a list of suggested activities for discovery time for the next 2 weeks.
Wk 6
Wk 7