Brambles
Home Learning - Set Friday 2nd December due in Wednesday 7th December
SPAG.com - Please complete the task set which revises different terminology used in English; this includes parenthesis and the use of semi-colons.
Mathletics - Please complete the task set which covers some of the mental strategies using number facts to multiply and divide in class.
Each week there will be 2 homework tasks on SPAG.com and 2 on Mathletics.
Spellings - This week, we are investigating the suffixes "ibly" and "ably." The children need to look for the pattern as to when they need to add which suffix. We will also be covering this as part of our spelling in class. The words are: respectably, agreeably, enviably, comfortably, reasonably, incredibly, sensibly, horribly, terribly, and possibly.
Welcome to Term 2!
Teacher: Mr Day Teaching Assistant: Mrs Aurus
We look forward to welcoming you back to class. Mrs Cooper will also support with some interventions throughout the year.
Our topic this term is 'Nomansland: A History in the Making', looking in particular at the our local history and how it was shaped by WW1 and WW2. This topic will incorporate aspects of history, English and Art with the key concept for the term being 'What makes an event historically significant?' Please see the curriculum newsletter below for further details.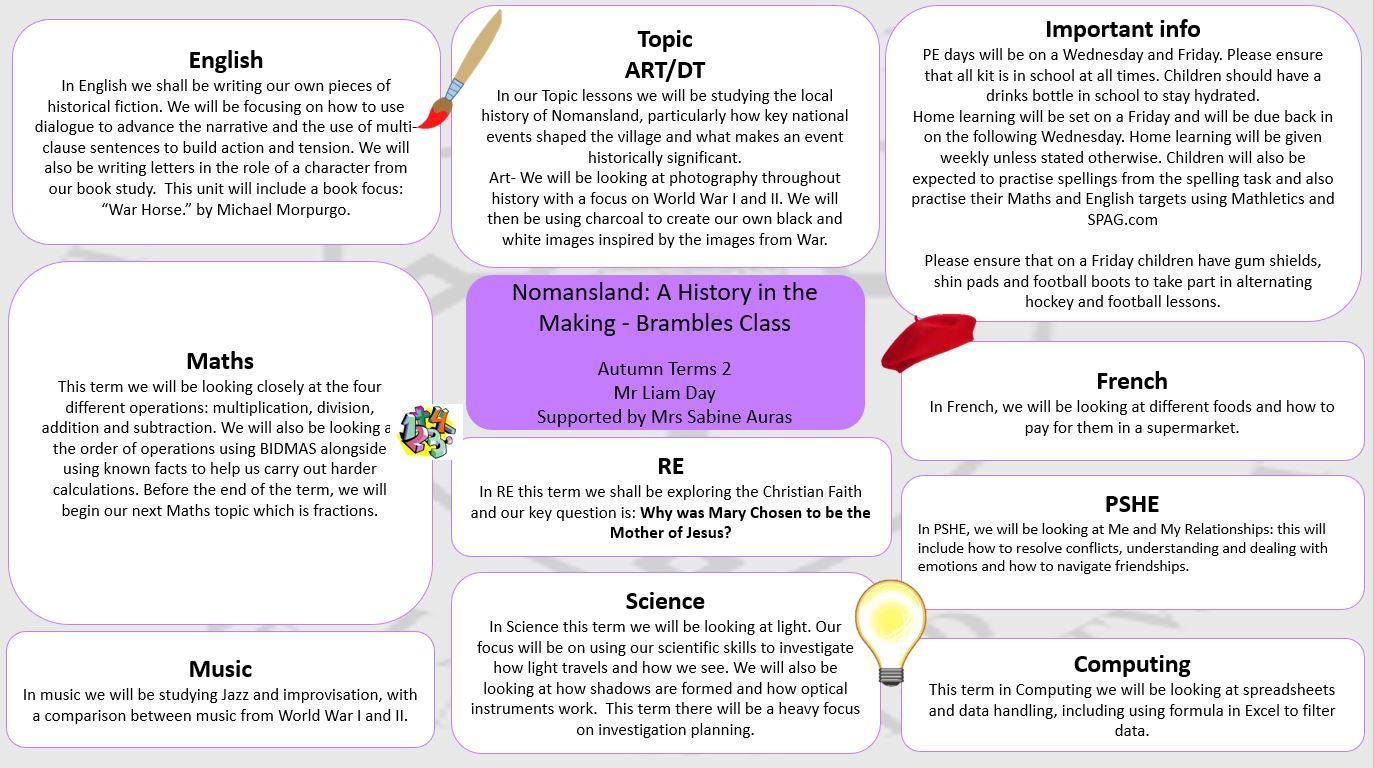 P.E.
PE days will be every Wednesday and Friday. Please ensure that children come into school in their PE kit on these days.
Children should have a drinks bottle containing only water in school to stay hydrated and a thin rain coat or sun cap depending on the weather.
Home Learning
Each Friday homework will be set on Mathletics and SPaG.com. There will also be a spelling investigation covering 5 words from the Year 5 and 6 spelling list each week which should be handed in on paper each week.
Here are the links for when home learning is set online:
Mathletics United Kingdom | Empowering Maths Learning Online
SPAG Tests Online - Practice Grammar & Punctuation Tests Online
If you need reminding of any log in details, please contact the school office via phone or email.
Children should read with an adult as often as possible, ideally daily but at least three times a week. Reading records should be signed by an adult at the weekend, ready for checking on a Monday morning.