Please keep an eye on Class Dojo. This is where we will share lots of our learning and keep you up to date with any extra information about Pines Class.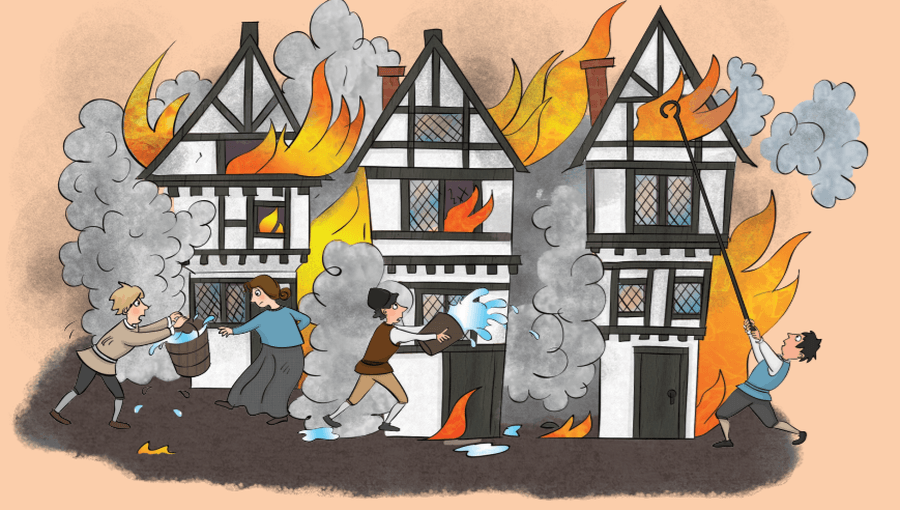 Click here for Termly Overview
This term our learning will be linked with the theme of The Great Fire of London. Children will have the opportunity to use enquiry skills to find out more about the famous event from the past and create their own writing. We will explore the way in which our fire services have changed for the better. Children will also learn about songs and rhymes from the time as well as how people lived. We will be creating some artwork based upon the fire and looking at St Paul's Cathedral.
Maths
Our Maths learning will focus on identifying and using part part whole models to create number bonds to 10. we will also be building on our knowledge of addition and subtraction within 10. We will develop our understanding of 2D and 3D shapes and use this to help us create Tudor buildings.
English:
Our English learning will be steered by our focus on The great Fire of London. We aim to create our own newspaper reports and then focusing on diary writing, following the footsteps of Samuel Pepys.
Science:
Our Science learning will be focusing on the weather and identifying patterns. children will have the opportunity to describe the weather and gather and record data to help answer questions.
RE:
Our Religious Education learning will focus on our key questions: Why does Christmas matter to Christians? We shall explore Christmas as an event and consider why this event is important especially to people of the Christian faith and what this event means to them.
Coming Soon.....
Photos of our learning from Term 1
How you can help at home:
Find opportunities to practice number bonds to 10 around the home to become fluid.
Find opportunities for purposeful writing, such writing about what they did at school, now we are nearing Christmas; writing cards, wish lists etc...
Practise reading 3 times per week
Use sounds mats sent home to practise saying sounds and writing them.
Ask children about their day using 'when, what, how' to encourage memory recall.
Spellings:
Each week children will be tested on their spellings. You will have a copy of these sent home. The spellings are made from words that have the sounds focused on in phonics and words from year 1 common exception word list.
Important information:
PE days: Monday and Thursday. Please bring children to school in their PE Kit.
Information about Forest Friday or any other events will be shared on Class Dojo.
Thank you all for your continued support! If you have any questions, please do come and speak to us.