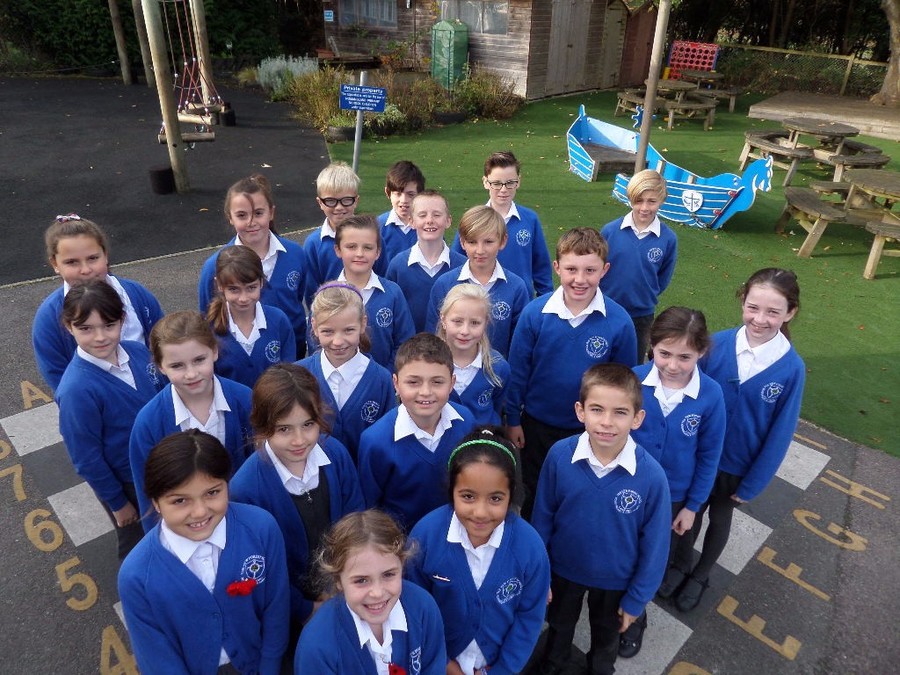 Hamptworth class
Year 5 - 6
Miss Morland, Mrs Malmberg,
Mrs Coleman
Veni, Vidi, Vici
Our study of the Romans is a two part 'transition unit' for the summer - the Roman Army and invasion this side of the holidays and Roman Britain for the first two weeks of year six.
Our trip to Fishbourne Roman Palace is on 11th September - a letter is coming out this side of the holidays
Summer holiday project is: The Roman Empire stretched across Europe and North Africa/Asia. Wherever you find yourself this summer try to find a local connection with the Romans. Is there a place you could visit or a Roman road you could walk? Research the Roman site you choose and think about what is left 2000 years later and what we can learn about the romans from the remains.
Produce a project about the Roman site you have chosen to look at. Safe websites to help with your research are: BBC primary history; Homework Help; English Heritage - check with an adult before going online.
Present your project in a way that suits your interests with plenty of information.
You also have the Roman sats questions from some past papers. ALL DUE IN ON TUESDAY 5th SEPTEMBER
Have a great summer!
Our year so far in pictures:
Term 6 - Veni, Vidi, Vici - I came, I saw, I conquered.
Year 5 expectations document: Year 5 expectations
Home-learning expectations:
Reading - All year 5 children are expected to read their own choice of book independently (and regularly to an adult) a minimum of three times each week. Most children chose to read daily! Copies of 'First News' will soon be available to read online and we encourage membership of the local libraries.
They should record the pages read in the homework diary and get an adult to sign/vouch for each session.
Guided reading, Topic, English, Maths - see section on right for weekly expectations.
Presentation skills - are very important and all home-learning writing should try to be neat and presented well enough to go straight into their curriculum book. Please try to keep the size of projects/research to A3/A4 so they can fit into the child's book. Typing instead of writing is fine but please make sure the child does not cut and paste huge chunks of text from the internet – we'd rather see less and make it the child's own work. The children will be encouraged to develop their skills in Word and Publisher this year
Organisation - All year 5 children are expected to have their home-learning journal in class daily. We recommend they use a document folder to help with organisation as well as a strong pencil case to keep their personal stationary and school issued pens in. Pencil cases can stay in school, or can be brought home-school daily.
PE will usually be Monday and Wednesday afternoons but children should expect timetable changes, extra practise sessions and clubs – so HAVE PE KIT IN SCHOOL DAILY. Each Monday make sure your have the correct kit (shin pads etc) for the week ahead.
This week's home-learning: Updated 15/07/2017
Topic/ English-
Please make sure you have read the Romans section on BBC primary history and the Homework help website ahead of Monday's report writing session.
Make sure you have written your prefect application by Friday 21st or you will not be a prefect in September (you'd have to start in term 2).
Guided Reading -
Horowitz, Rowling, Walliams, Fine - all the same this half term as we get you up and running on the First News iHub comprehension resources. You should have now completed several tasks on this resource. Each of you have your log in details.
This week you need to all go online and read the articles and do the activities
https://ihub.firstnews.co.uk/pupils
This will be your main guided reading resource for end of Year 5 now. Daily reading needs recording in your home-learning journal or on a bookmark record (ask Miss M if you've run out)
Spelling - Mrs Malmberg will continue to do spelling patterns and Miss Morland will do the target words and revision of words/patterns you need to know.
Home School Learning Journey Term 5 Spelling Suitcase Walk Jog Run.pdf
Keep going with the next suitcase.
Walk spelling suitcases are the commonly used words that we all need to know how to spell everyday. This is the list so far your child should have worked on this year to date:
Home School WALK Spelling Suitcases 1-8.pdf
Jog spelling suitcases are the Year 3/4 target words that some need to revise.
Run spelling suitcases are the Year 5/6 target words that we will be working on in Year 5 and 6
Maths - Everyone has been asked to play 3 games this week on Active Learn. https://www.activelearnprimary.co.uk/login
You need your username/password and the school code 'tnfc' from your homework diary

Mathletics is extra at moment whilst we try to get everyone up-to-date with Active Learn consolidation of class learning objectives.
Remember Extra Homework = Extra Housepoints
MATHS PASSPORT TESTS - Keep going and Mrs C or Miss M will test you every fortnight.
These documents have lots of suggestions as to how to practise for your targets: